Playing Music on the PDP-10
Playing Music on the PDP-10
Playing Music on the PDP-10
In 1979, Laurie Barram built a MK10 "Music Kludge" device which allowed the PDP-10 to play music. The MK10 plugged into the console lamp drivers, so that instead of driving the display lamps, the signal went into a simple smoothing and level setting circuit. Up to six "voices" - each a modulated single bit - were used in this way, and mixed to a stereo signal. This was then fed into an amplifier and then to speakers.
Some music was provided from DECUS Tapes, other music was produced by Will Gout.
---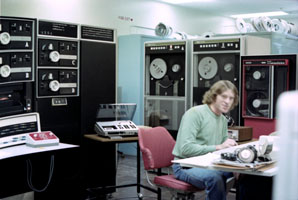 Laurie Barram plays DJ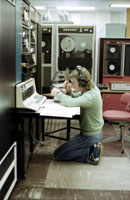 Laurie adjusts the mixing on the MK10
The six voices are mixed into a stereo signal. Here, the balance is adjusted to give a satisfying result.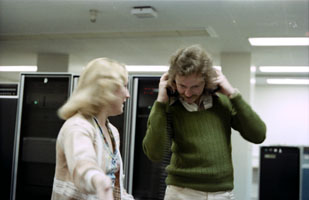 Sharon Oberhardt and Colin Lythall discuss technical matters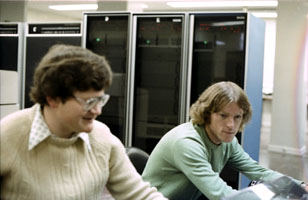 Wilber Williams and Laurie Barram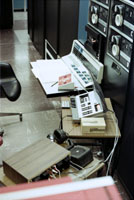 Recording equipment - KA10, MK10, and Aiwa AD-1250 Cassette Deck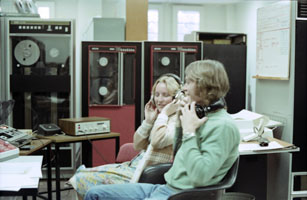 Sharon and Laurie listen to the music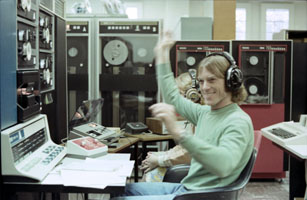 Laurie conducts as the KA plays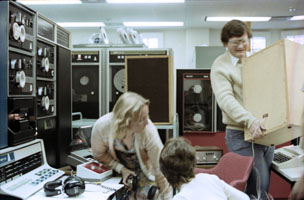 Sharon and Chris Lythall watch as Wilber sets up speakers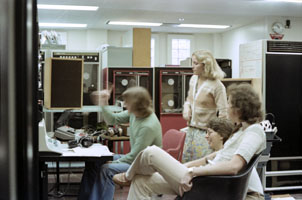 Laurie conducts whilst others watch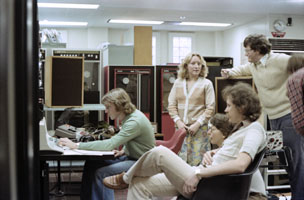 Laurie, Sharon, Chris, Colin, Wilber and possibly Bryan Claire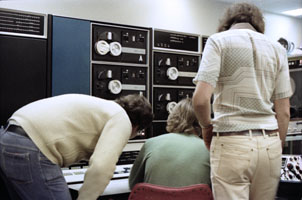 Checking the console lights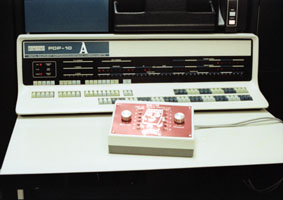 MK10 on the PDP-10 console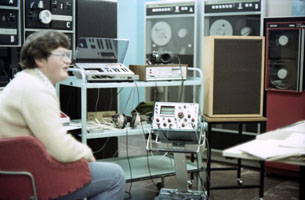 Wilber reports on progress to another crew member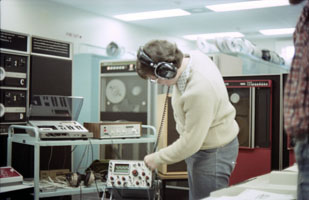 Wilber checks levels and waveforms on the Tektronix 453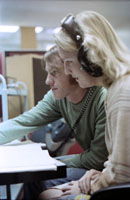 Intense concentration on the faces of Laurie & Sharon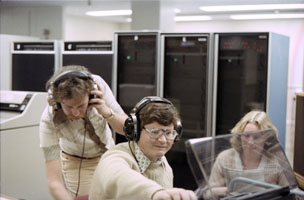 Colin, Wilber & Sharon controlling the equipment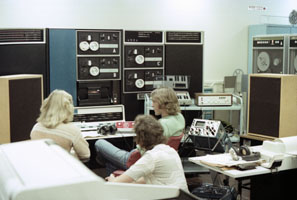 Sharon, Colin & Laurie monitoring a recoding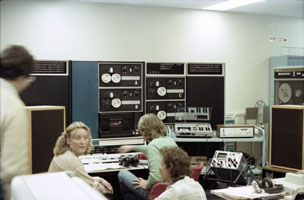 Wilber, Sharon, Laurie & Colin in action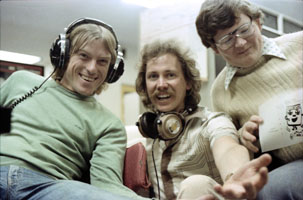 Laurie, Colin & Wilber after a successful recording session